ORIGINALS: Available for Purchase
Original paintings are occasionally available for purchase directly from the Studio. Some of the paintings shown on this site are currently in the possession of the artist however some may be recently sold or reserved for exhibition at major upcoming shows and not available for purchase at this time. We try to keep these listings up to date however, please note that the availability status of original works changes on a day-to-day basis. If you are interested in acquiring an original work or require further information, please confirm availability and prices with the Studio by phone: 1-519-650-3908


We accept American Express and VISA and Mastercard credit cards, as well as checks, money orders, bank drafts and direct bank transfers (wires) in all major currencies.

Original paintings on canvas are generally sold "rolled" and the price includes packaging. Shipment is exclusively by Federal Express for "next day delivery" and we prepare all necessary customs papers and provide a certificate of origin. Paintings are shipped tax free and most countries allow duty free entry and tax free entry in some cases.
ORIGINALS: CURRENTLY AVAILABLE FOR PURCHASE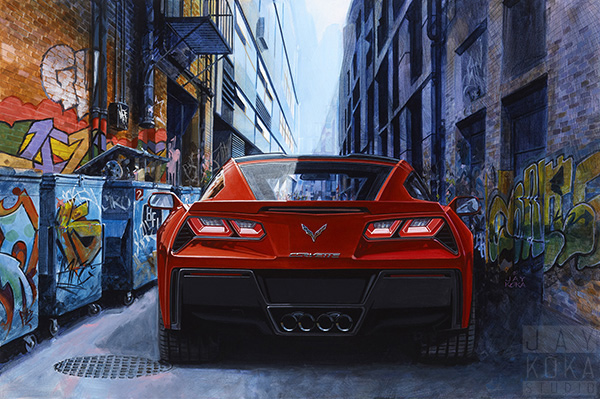 Graffiti
Title: "Graffiti" by Jay Koka, © 36"w x 24", acrylic on canvas, currently in the studio
Jay Koka: The C7 is making news and generating lots of interest. I enjoy the visual of a typically micro-designed automobile where every minute aspect of the design is endlessly revised and refined contrasted with the exuberance and spontaneity of graffiti in a completely non-descript alley way. In fact, the entire painting reflects this contrast with a rigorously balanced layout containing a completely random pattern of graffiti.