(Ferrari) 812 and Zeelander
at Portofino

Title: "(Ferrari) 812 and Zeelander at Portofino"
by Jay Koka, © 2022
36"w x 48" (90x120cm), acrylic on canvas, Private Collection

The setting is the much admired and very beautiful harbor of Portofino, located in the Italian Riviera region of northwest Italy.

Jay Koka" Although I am enamored of wooden boats, the Zeelander presents to me a shape that is irresistible. It is in so many ways almost "car-like" in its overall shape and layout and serves as a perfect companion to the Ferrari 812 on shore. This yacht is a Zeelander 44."


Visitors to the Studio site are well familiar with Ferrari and all the latest models including the 812. Boatbuilder Zeelander was established in the Netherlands in 2003, engineering and creating high-end motor yachts to the very high standards. www.zeelander.com

NOTE: The original painting was altered on sale: the country flag has been changed and the boat name has been applied to the stern. Reproductions are as originally painted as shown here.


---
Barrel Back at Mystic

Title: "Barrel Back at Mystic"
by Jay Koka, © 2022
30"w x 44" (75x110cm), acrylic on canvas, with the studio

The iconic Chris Craft custom runabout was produced from 1939 to 1942, with a total of 433 hulls produced. It is said that the Barrel Back represented the highest level of craftsmanship Chris Craft ever offered because it required skilled craftsmen to produce the full half circle transom shape.


The craft presented in this new original work is a 1940 Chris Craft 19ft Custom Runabout Barrel Back model featuring fold down Bugatti style windshields.

The setting is Mystic Harbor in Mystic CT, USA.


---
Madeleine
Title: "Madeleine"
by Jay Koka, © 2022
44"w x 26" (110x65cm), acrylic on canvas, in Studio

Although "Madeleine" has the style of a hundred years past, it is only a few years old having been constructed in 2011.
The recent "Before the Railing" painting of the 1921 Ditchburn sent me to research a bit about the Ditchburn story. In the process, I came across "Madeleine" and I was immediately captured. The "Ditchburn" style rear exhaust ports caught my eye and appreared to place the boat into the same era.


"Madeleine" is a modern custom-designed 30 ft speedster built by Van Dam Boats located in Boyne City, Michigan, USA. "Madeleine" is currently in a private collection in California.


---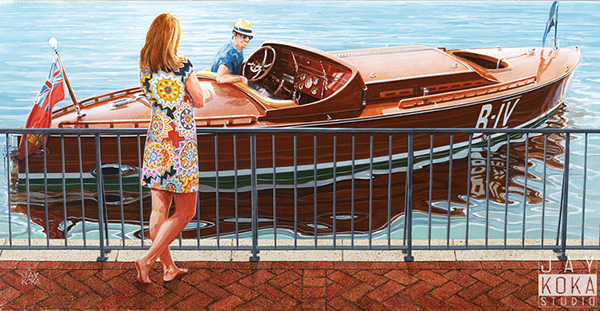 Before the Railing

Title: "Before the Railing"
by Jay Koka, © 2022
44"w x 22" (110x55cm) , acrylic on canvas, in Studio

The title of the work is a play on the "B-IV" on the hull...
The painting features the exceptional "gentleman's racer" "B-IV" - 1921 28'6" Ditchburn powered by Gale Banks 8 cylinder/ 850 hp. A superb example of a wooden boat from one hundred years ago.
Ditchburn Pleasure Boats Ltd was established in 1871 on Lake Muskoka (Ontario, Canada) by Henry Ditchburn to build wooden pleasure boats and launches.


Joined by his brothers, William, John, and Arthur began by building wooden rowboats in Lake Rosseau, and moved to in Gravenhurst, Ontario, in 1890. The company began building gasoline launches in 1898.


jay koka, jay koka studio, jay koka original paintings, jay koka original painting reproductions, private fine art commissions, event and commercial art commissions, jay koka studio online stores, jay koka biography, reproductions, limited edition fine art prints, color proof fine art prints, automotive themed posters, automotive themed settings, ferrari, porsche, lamborghini, exotic automobiles, classic automobiles, sports cars, racing cars, F1, motorcycles, boats, marine themed art, antique and modern yachts, classic wooden boats, trains, the art of travel, fine art print reproductions on canvas, fine art print reproductions on paper, 30:30 jay koka studio book, thirtieth anniversary book, tenth anniversary book, jay koka studio archives, jay koka originals copyright information, jay koka originals image licensing, jay koka studio how to place order, headlight productions incorporated, knightbridge publishing incorporated