LAMBORGHINI: Canvas prints
Studio canvas prints are produced by the giclee method on fine quality artist grade canvas. All editions are full size ...same size as the original work... and released in small editions of 20 or less signed and numbered prints. Each print is signed and numbered in bothe the image and the margin.

Prints are shipped rolled requiring stretching on arrival. Our prints have an ample margin for stretching and are finished with a UV varnish similar to that used on original paintings. All print production is supervised by the artist.

Shipping is included for most editions, see Pricing Details by print.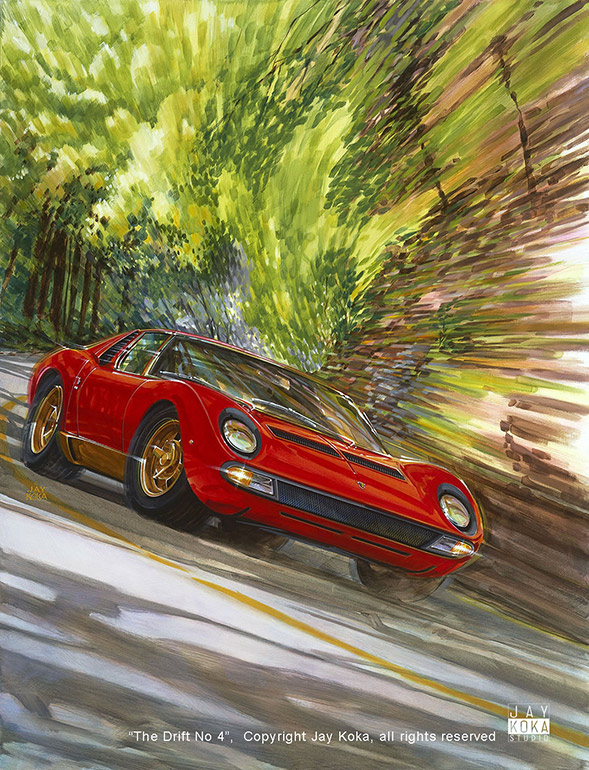 The Drift No4
The Drift No 4 continues a series of paintings started in 2000. Its predecessors have featured a Jaguar XKD, a Porsche Carrera GT (2008) and a Porsche 918 (2016) each as different in style and execution as the one before. This is the poster/event art for the 2018 Cobble Beach Concours d'Elegance ...full story here
34x44", edition of 10
CANVAS PRINT AVAILABLE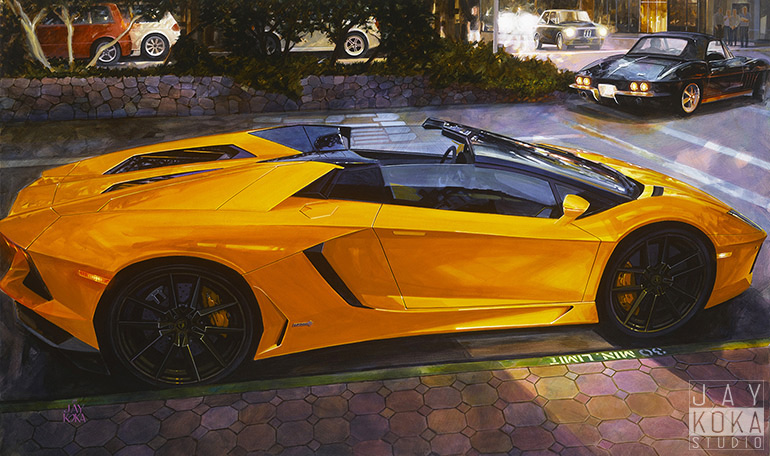 Friday Night on Ocean - Later
Friday Night on Ocean - Later" is some minutes after "Friday Night on Ocean" on the same Carmel, California, Ocean Avenue corner. The first group has burned away and along comes a really nice Lamborghini Aventadore to take the space of the 918. ...full story here
NEW SIZE
: 34x20",
CANVAS PRINT AVAILABLE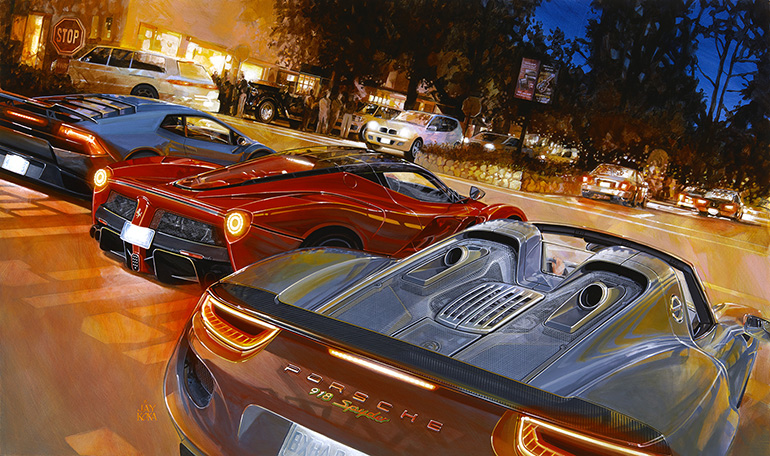 Friday Night on Ocean
Jay Koka: "My latest painting captures that moment on the line just before an impromptu ...and always exceptionally "short-lived"... drag across the intersection. Here we have a Lamborghini Huracan, Ferrrari LaFerrari and Porsche 918 just a moment before the brake lights dim. Visual excitement for all exotics fans....full story here
NEW SIZE
: 34x20",
CANVAS PRINT AVAILABLE